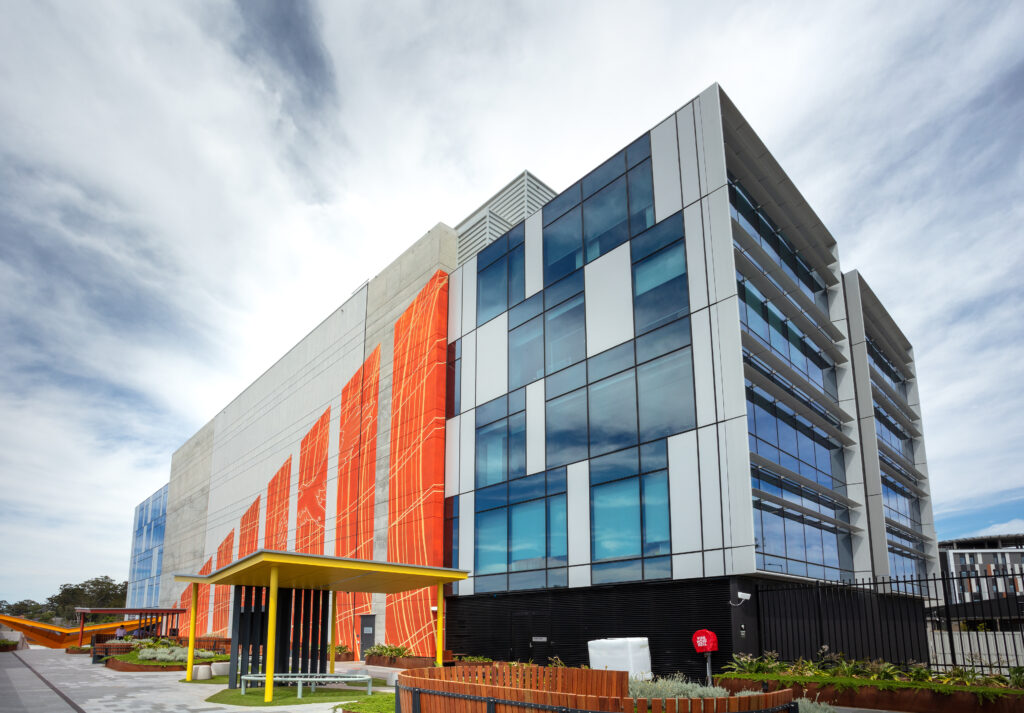 Taking 5 weeks to complete and visible from Gosford city centre to the surrounding areas, this collaboration has produced an important and vibrant work for the Central Coast Clinical School and Research Institute – a joint project between the education and medical establishments of Newcastle University and NSW Health.
Project: Sea Eagle over Darkinung Mural – CCCSRI, Gosford Hospital, NSW
Design: Aunty Donella Waters and Dylan Finney.
Muralist:  Brontë Naylor and team.
Paint: Murowash – Bordeaux, Dragonfly, Flannel Flower & Clay
Building:  Fitzpatrick+Partners
Images: Simon Hewson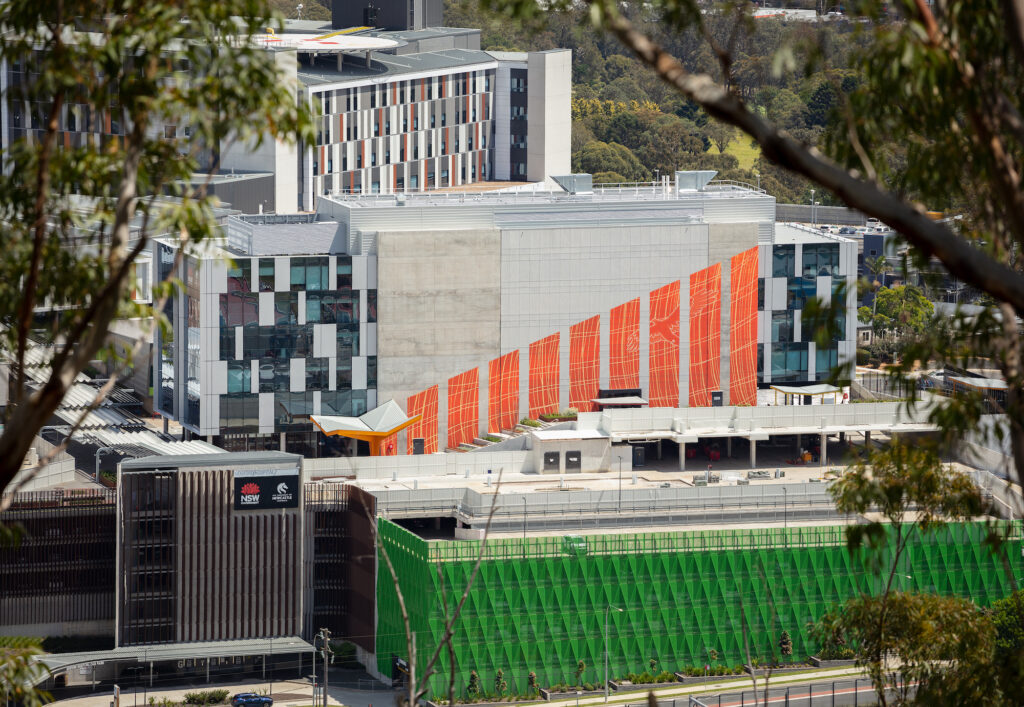 Attracted by our colour palette and heritage as Australian owned family company, Murobond was proud to be selected to work with Gillian Shaw (Art Curator Academic Division at University of Newcastle) the CCCSRI mural.
The final design, colours and textures were translated under the careful supervision of artists Aunty Donella Waters, Dylan Finney and a team of Muralists led by Brontë Naylor.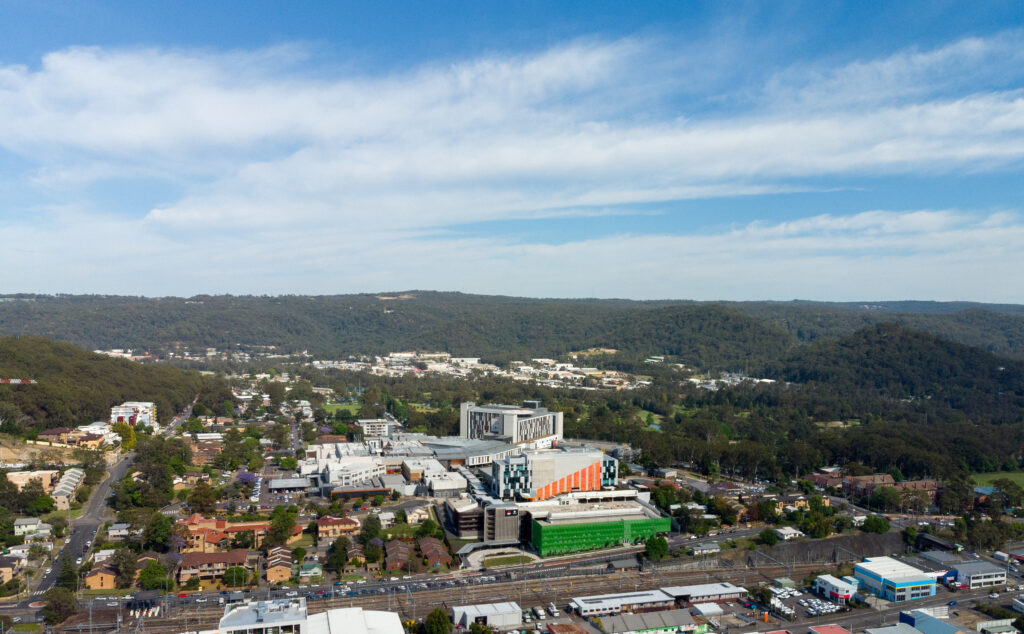 THE MURAL
Aunty Donella  worked with Artist and Illustrator Dylan Finney to design a work for mural that at its highest point is 18 m high and runs across around 38 metres at its base. Taking the weave of the dilly bag as a background of the artwork, a sea eagle was drawn in flight, soring over Gosford.
Aunty Donella says that the "connection between Darkinung's past and present people is that eagles remain spiritual and meaningful  – powerful energies in the sky. They hold a deep meaning that conveys the power and messages of the spirit. It is our connection to the intelligence, and beauty, that soars higher than any bird in the sky. Our ancestors also believed when eagles are in flight it brings messages, directions for te winds and good hunting, a sure need for a dilly bag. This work represents Soaring Heights – with our Past and the Future."
Dylan Finney elegantly drew the sea eagle as a prominent symbol for coastal aboriginal communities it symbolises freedom, power and leadership and can represent the aspirational goals of the community.
He feels "the eagle's ability to cover large areas speaks to the role of the Gosford Hospital precinct in caring the Central Coast and Darkinjung community. The piece as a whole works well as a recognisable landmark and visual metaphor for the collaborative process we as artists and community members undertook as well as what the CCCSRI represents."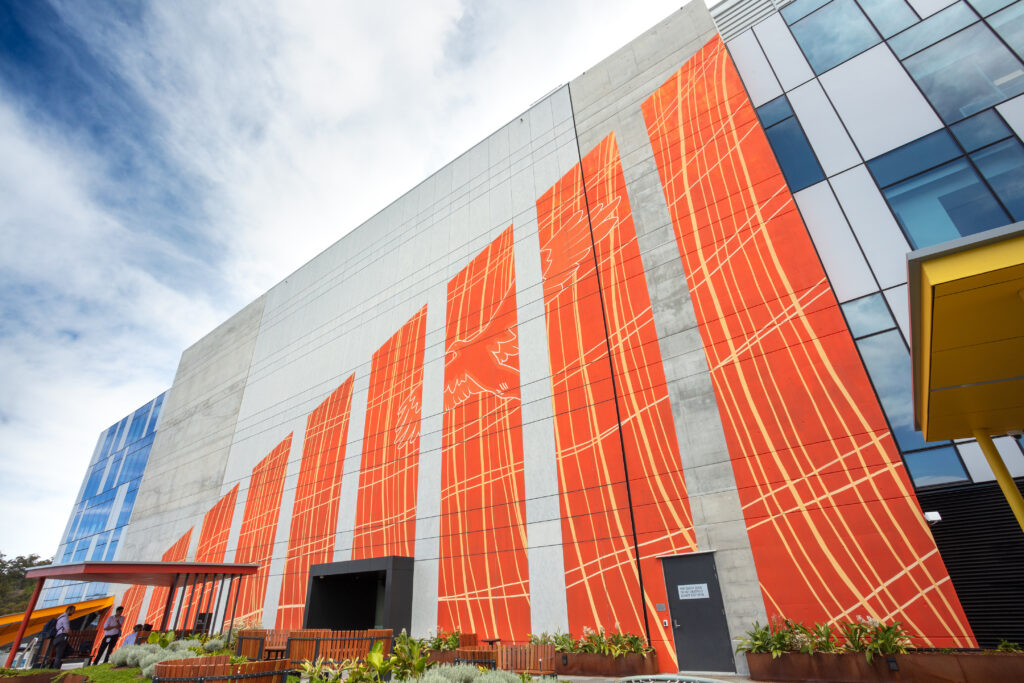 THE ARTISTS
Donella Waters is a proud descendant of the Kamilaroi Nation. Her grandparents and their mob come from the old Eueabra camp site in North Western NSW, long before the Government relocated them to Boggabilla Aborigines Mission, later renamed Toomelah Mission. She has fond memories of growing up on the mission, and is forever grateful to her Elders past and present, who taught her how to love, respect, share, and to stay strong in our culture.
Dylan Finney is a designer and artist living on Darkinjung Country. His family is from Arnhem Land, coming originally from Ngukurr. His work explores identity, past and present cultures and how their stories and lessons interact with modern life.
Muralist: Brontë Naylor is an Australian Visual Artist working across exhibitions, public art, installation, research and community engagement. She has had previous collaborations with St+ART India, Sea Walls: Artists for Oceans, First Coat International Art Festival and Big Picture Festival and her murals feature across most of the states in Australia.
THE MUROWASH PROJECT COLOUR PALATE
see the full Murowash range